The Mad Scientist Chronicles
White Sands Cantina
The White Sands Cantina was a bar and restaurant on the planet Cygnus. It was housed within a run-down, medium-sized wood and thatched-roof circular structure located in the beachside town of Lomost, on an island of the same name, and stood barely forty meters from the surf.
Its thatched roof was made from local grasses that grew on the hillside that rose above
Lomost
. The cantina sported a small deck facing the beach.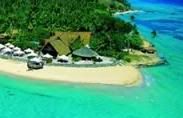 Until the Empire arrived, the White Sands Cantina was a popular spot to eat lunch for both locals and visiting spacers.